The Free July 2023 Typism Summit is over
But we have a super special limited offer for you ...
upgrade your summit experience with the Typism Summit VIP bundle 
Here's what your Summit Bonus includes
Vintage Lettering Toolkit for Procreate
Aurelie Maron
The Vintage Lettering Toolkit for Procreate has everything required to create the most elegant vintage lettering.

With this toolkit, you will have all the tools in hand to create timeless lettering inspired by classic design techniques. With two custom typefaces, pre-made antique borders and multiple stamp brushes, you're guaranteed to create the most beautiful and detailed artwork.

Start making your own realistic stone-carved filigrees, gold foiling, oil-painted elements, and more in just a few strokes!
Regular Price: $23
The Flourished Majuscule Blackletter Collection
Tamer Ghoneim
The complete collection of flourished capital letters created as part of a 6-month project in 2020.

This art book includes multiple interpretations and variations of each letter and, as a bonus, 2 FREE Procreate brushes that were used in making this series are included as a bonus!
Regular Price: $19
Creating Repeat Patterns in Adobe Photoshop
Cass Deller
Learn how to create repeat patterns with your illustrations with Adobe photoshop in THREE different ways (you won't find these on Google!!) With this course you'll learn how to create repeat patterns in an "Industry Standard" way, how to create repeat patterns MY UNIQUE way and how to create repeat patterns in an ADVANCED way, integrating watercolour backgrounds. PLUS SIX BONUS TUTORIALS and instant, lifetime access!!
Regular Price: $99
Learn Lettering with Chelsie Tamms
Chelsie Tamms
You'll learn a variety of tips and tricks to help you understand the basics of drawing letters and enable you to create your own beautiful hand-lettered artwork. No previous lettering experience or fancy tools needed.
Regular Price: $39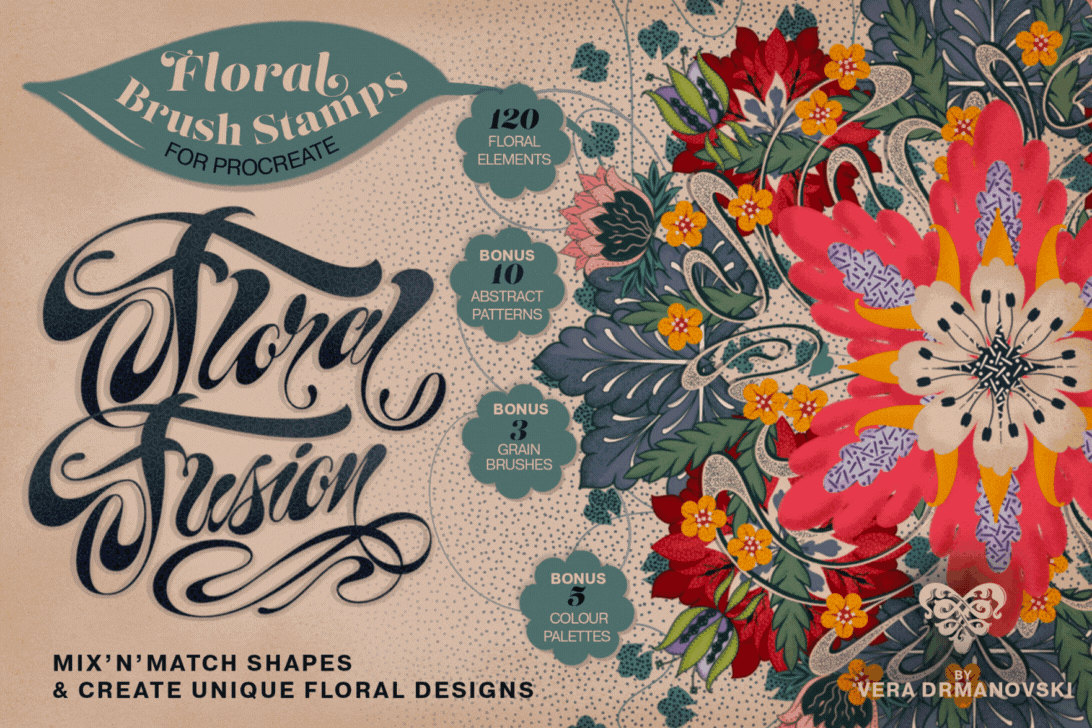 Floral Fusion Brush stamps for Procreate
Vera Drmanovski
Floral Fusion is a set of 120 floral shapes that can be mixed and matched to create floral designs. These brush stamps are very unique because they are fueled by your creativity; your imagination is the key! You will have the freedom to use them as you like and create floral designs that are entirely your own.
Regular Price: $20
Outreach for Creatives: Your Step-by-Step Guide to Cold Emailing
Jessica Molina
You can't expect clients for your freelance creative business to magically appear in your inbox all the time (or even some of the time). This PDF guide will walk you through 5 simple steps to help you reach out to the type of clients you actually want to work with. You'll learn how to optimize your portfolio, create your outreach list, write and send your email, and (most importantly) follow up with your prospects.
Regular Price: $39
The Brand Strategy Bundle 
Bonnie Bakhtiari
Gain a deeper understanding of brand strategy and how to apply it to your own business or your client projects! The Brand Strategy Bundle is a page straight out of my signature brand strategy process that enables me to create brands that go deeper than the surface for my own clients, and is for you whether you're just getting started as a designer and you're ready to create a branding approach that delivers results, or you're a seasoned pro looking to incorporate more strategy work into your process!
Regular Price: $149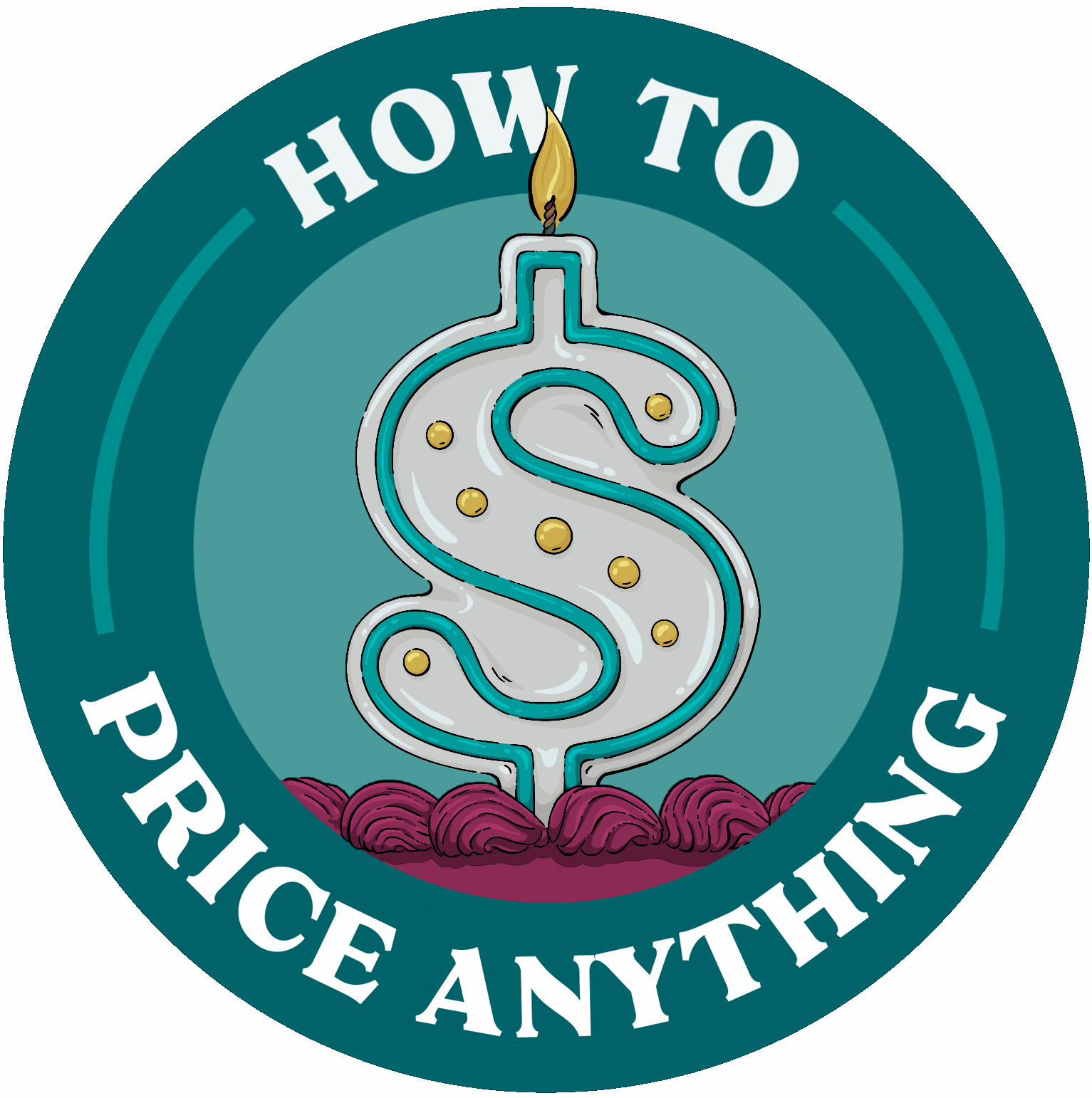 How to Price Anything Ebook
Jasmine Designs
My step-by-step ebook for hungry creatives to help you price anything as a service-based freelancer and serve your rates with confidence, no matter the client!
Regular Price: $59
The Flock Membership—3 months free
Peggy Dean
Join a member-based community of mentorship, industry leading resources and support for artists of all stages who speak your language sharing industry secrets and success.
Regular Price: $81
The Complete Creative First Aid Kit: Heal Your Creative Trauma In 3 Easy Steps 
Tara Leslie
Unlock your creative potential and heal the pain inflicted by past attacks on your creativity with The Complete Creative First Aid Kit! This comprehensive kit includes three engaging lessons in PDF and video formats, empowering you to identify lingering creative injuries and trauma that hinder your creativity and keep you in a state of creative block. With practical worksheets and the exclusive "creative first aid" method, you'll learn how to address and heal these wounds so you can get back to creating daily without fear!
Regular Price: $49
Copperplate Calligraphy on the iPad with Procreate
Nicole Mauloni
Learn the beautiful skill of Calligraphy on the iPad with this detailed guide for Procreate. Over 80 pages of traceable practice sheets to build your muscle memory and master the letterforms! Specially designed for the combined power of Procreate & the Apple Pencil (or other pressure sensitive stylus).
Regular Price: $33
Colouring Letters—A Colouring Experience
Tezay Kir
A wonderful and calming journey of individually crafted letters, each telling a unique story. Waiting for you and your loved ones to give them your very own touch. The Colouring Letters Digital Edition contains the complete alphabet. Enjoy!
Regular Price: $14
Project Proposal Template 
Riri Tamura 
This Project Proposal template is great for creative freelancers who need help selling their project to a potential client! Everything in this keynote template is editable so you can easily style it your liking.
Regular Price: $15
Features & Press for Independent Artists (A Guide)
Alanna Flowers
Are you eager to see your name and work featured in print and online publications? Or maybe there's a podcast you've always wanted to be featured on. This guide will help you land your first feature by helping you identify your target markets, outline an outreach strategy, and more.
Regular Price: $15
Finding Balance and Joy Guide
JoJo Wang
The Finding Balance and Joy PDF Guide is a 34 page digital booklet that covers various concepts, exercises, and journal prompts to help you move toward a business that will keep you feeling motivated and inspired! If we don't check in with ourselves, we might find ourselves running in circles, or possibly even burning out.

Use this guide as needed, once a quarter, once a year, or whenever you're feeling stuck in your business. This guide is designed with creative entrepreneurs in mind at all levels. Whether you're figuring out your business early on or you've been grinding away for years, this guide can remind you what turns to take so you have more joy in your business.
Regular Price: $18
The Sales Page Genie
Dominique Falla
Are you ready to write your high-converting sales page copy in hours, not days?
Stop procrastinating—it's time to get that Sales Page done! The Sales Page Genie will help you structure your long-form sales page, write persuasive copy, and streamline the process. 
Regular Price: $47
That's over $800 in bonuses!
You also get access to all 26 Typism Summit 2023 summit videos.
THE COMBINED VALUE OF THE BONUS BUNDLE AND TALKS IS $2497
Access it all now for just USD 147
LET'S RECAP EVERYTHING YOU GET IF YOU GRAB THE BUNDLE
When will I get access to the bundle?
How will I access the bundle?
Do I need any special equipment?
When does the bundle access expire?